This year's big vacation – I always take two weeks off during the Summer to visit my family in Portugal – was a little earlier in the year than usual, and I brought along a very ambitious reading list. Eight books turned out to be the final mark, and here they are, along with the reviews.
The Handmaid's Tale by Margaret Atwood
My rating: 5 of 5 stars
Scary how a book that was published in 1985 has a story and writing so fitting for today's world.
This is written beautifully, with an intriguing and powerful story.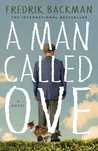 A Man Called Ove by Fredrik Backman
My rating: 5 of 5 stars
This is a delicious tale regarding a grumpy-old-man who finds himself being forced by his neighbours and a set of "misfortune" (in his point of view) to become a not-so-grumpy old man. The writing is engaging and the story and its characters very well crafted. Couldn't recommend it more.
The Princess Saves Herself in this One by Amanda Lovelace
My rating: 3 of 5 stars
This was alright. A few of the poems were nice, although when comparing it to Milk and Honey (and how can you not when the style is so similar) I must say this is not half as good. I was definitely expecting more, especially in regards to the title.
Grief is the Thing with Feathers by Max Porter
My rating: 3 of 5 stars
I was expecting to like this book more than I did. I understood the poetry in the father and sons' chapters, but the representation of Grief itself – in the shape of a Crow – was too confusing.
The Reader on the 6.27 by Jean-Paul Didierlaurent
My rating: 4 of 5 stars
I was expecting more reading on trains than it has – going by the title – but altogether, this was a cute story who didn't dwell too much on the romance regarding the main character, focusing mostly on the importance of kindness and the love of reading.
Eleanor Oliphant is Completely Fine by Gail Honeyman
My rating: 5 of 5 stars
In the real world, I wouldn't like the protagonist. Then again, in the real world, I could only know as far as my eyes could see and my ears could hear. In the book, we get to actually know the character and, even if we think she is a bit uptight, we get to understand her reasons. I loved this story, although I could tell its twists way too early in the book; well-written and interesting.

The Sun Is Also a Star by Nicola Yoon
My rating: 5 of 5 stars
I've been reading a few YA book and I've been really enjoying them. I decided to read The Sun Is Also A Star after reading the other romance by the author, Everything Everything. I must say that I liked the other one better, but this was also a brilliantly told tale of young love and predicaments. There were a few clichés, but aren't teen relationships usually filled with them? It takes us on a little trip inside two different cultures as well, so I'm looking forward treadingad more of the author.
Love Letters to the Dead by Ava Dellaira
My rating: 4 of 5 stars
I liked the book, despite the recklessness of the main character. The premise of a girl wh is grieving writing to dead people while trying to rediscover herself after the death of her older sister is interesting and well-delivered, and I actually got to know a few facts about those dead stars within the story as an extra.
Where'd You Go, Bernadette by Maria Semple
My rating: 4 of 5 stars
The premise of this story – Bernardette going missing – is actually the last bit of the whole book and, really, the least interesting aspect of it. Of course I was curious to know how and where did Bernardette go, but the life of a rich neighbourhood in Seattle and the quirks of its inhabitants, their dramas and little-dirsty-wars was actually much more interesting and funny than all the rest.
*
I didn't actually read the whole of The Handmaids' Tale while on vacation, I had already started it before I left to Portugal.
On this list is also missing A Sociedade Dos Sonhadores Involuntários (roughly translated to The Involuntary Dreamers' Society) by my favourite author, José Eduardo Agualusa, because I my review is written in Portuguese, but I can assure you it is a wonderful book.
How about you, have you read any of these books? What's your take on them?
Carina